Our Residential And
Commercial Services
Retaining Walls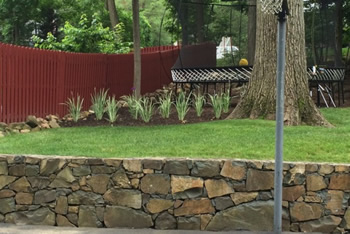 Hardscapes are critical features in a landscape. They have important functions such as improving safety in the outdoor area, adding more functional spaces, and making the landscape more attractive. One of the hardscape features that you should have is a retaining wall. You can use it to create new functional spaces in the landscape and prevent soil erosion. With these vital functions, you have to ensure the durability and structural integrity of the retaining walls in your property. You must hire qualified and experienced builders like us at Creative Concepts Landscaping, LLC.
Our company is one of the few landscaping companies in the state that can guarantee outstanding installation of retaining walls. The walls that we build are guaranteed tough and made from the finest materials available. We have partner suppliers where we get our quality retaining wall products. Moreover, our people can create wall designs that are stunning and customized according to the desired look of our clients. You can see most of our completed projects in The Caldwells, Roseland, Essex Fells, West Orange, Pine Brook, Montville, Parsippany, Livingston, Cedar Grove, Verona, and Lake Hiawatha, NJ. If you want to have professionally designed and built walls, please contact us at (973) 334-7336.
Retaining Wall Blocks
Your retaining walls can be designed according to your preferences or specific requirements. A lot of manufacturers are offering a wide range of designs that can suit the design preferences of most clients. The retaining wall blocks that they offer are available in various designs, sizes, patterns, colors, and finishes. These great options allow builders like us to come up with unique and highly personalized wall designs for our clients. If you need help in choosing the right style and look for your walls, just let us know at Creative Concepts Landscaping, LLC.
Concrete Blocks
Concrete blocks are cost-effective materials for retaining wall construction. They are available in different sizes and styles, so choosing the right block for your project is not a problem. Concrete masonry units are proven tough materials. When installed properly, they can effectively prevent soil erosion since they can retain large amount of soil.
Building a Retaining Wall
Expertise is always required when building a retaining wall. If you don't have the skills and tools, don't ever try to build one in your property. This hardscape feature is best installed by qualified builders and contractors. First, a contractor has expert people who can work on any type of retaining wall that you may require. Second, it has task-appropriate tools and even heavy-duty equipment for site preparation. Proper digging and grading is required to ensure the structural integrity of your retaining walls.
Retaining Wall Design
The retaining wall design must complement with the architecture of your home or overall design of your landscape. With the help of professionals, it will be easy to achieve a wall design that will enhance the beauty of your outdoor area. The great thing about this feature is that you can have it custom designed according to your preferences. You can opt for traditional styles, such as straight, curve, circular, or tiered walls. Choosing themed walls is also a great idea.
Block Walls
Your retaining walls can be made from interlocking retaining wall blocks or concrete masonry units. Whichever you choose, you have to make sure that the materials are top-quality and sourced from reputable manufacturers. Always consider the durability of your block walls even if they are primarily built for aesthetic purposes. A poorly built wall may collapse or sag, which can result in injuries and property damages.
MORE ARTICLES
Landscape design and construction services available in all of Northern New Jersey. Organic fertilization and lawn and shrub maintenance services available in the following towns: The Caldwells, Essex Fells, Roseland, West Orange, Pine Brook, Livingston, Montville, Parsippany, Lake Hiawatha, Fairfield, Cedar Grove and Verona