Our Residential And
Commercial Services
Lawn Care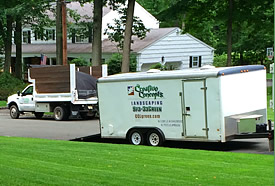 Lawns require extra care to keep them looking healthy and beautiful. They must be regularly mown and given their much needed nutrients. Property owners should also perform other lawn care tasks such as seeding, pest and weed control, aeration, and seasonal cleanups. However, some of these tasks are highly technical and best handled by professionals. They will follow systematic procedures to make the job easier, faster, and more efficient. Before working on various lawn maintenance tasks, they will consider the kind of grass installed, the soil condition, and the current irrigation system. With this approach, clients like you will get a well-maintained lawn.
At Creative Concepts Landscaping, LLC, we can help you have a lush and healthy lawn at a cost that you can surely afford. We are an award-winning landscaping company serving The Caldwells, Roseland, Essex Fells, West Orange, Pine Brook, Montville, Parsippany, Livingston, Cedar Grove, Verona, and Lake Hiawatha, NJ. We are family-run business that has been in the landscaping business for more than 50 years. We have the necessary licenses and certifications to perform our jobs. Our maintenance team is composed of seasoned crews with expertise in different aspects of lawn care. We have certified pesticide applicators, plant experts, paver specialists, and other highly skilled personnel. Please call us at (973) 334-7336 for more details about our services.
Landscaping
Lawn is one of the major elements of landscaping. Its glory is a big part of a property's overall aesthetics appeal. However, there are also other landscape elements that must be maintained. Some of these elements and features are irrigation system, landscape lighting, water features, and paver amenities. Aside from the lawn care plan, you should also have a comprehensive maintenance program for these features.
Lawn Mower
Most homeowners have a simple lawn mower to keep their grasses tamed. Professionals like us use advanced tools and equipment for a more efficient and faster job. We also use heavy-duty equipment for expansive lawns and special tools for hard-to-reach areas. For example, the use of cylinder mowers is best for shorter grasses since they have up to 12 blades that ensure uniform cutting.  Meanwhile, rotary lawn mowers are commonly used for taller grasses.
Lawn Care Services
You need to be extra careful when choosing a lawn care services company. The best people will always provide you with a list of their completed projects. It will also perform onsite assessment before getting into the details of the maintenance project. Moreover, the right company must have a team of experienced, skilled, and licensed professionals. Don't forget to consider the company's experience. Lastly, choose a company that offers other related services. This will eliminate the need to hire additional people to do the lawn care jobs.
Lawn Maintenance
It's more reasonable to let the pros do the maintenance for you. And it's better to choose a service provider that offers comprehensive lawn maintenance. It's planned specifically for your lawn so all its maintenance and improvement needs will be addressed. This may include mowing, trimming, core aeration, over-seeding, lawn fertilization, topsoil fertilization, mulching, pest control, broadleaf weed control, crabgrass control, spring and fall clean-ups, de-thatching, power raking, and pruning.
At Creative Concepts Landscaping, LLC, will create a comprehensive and effective lawn care plan for you. Call us now.
MORE ARTICLES
Landscape design and construction services available in all of Northern New Jersey. Organic fertilization and lawn and shrub maintenance services available in the following towns: The Caldwells, Essex Fells, Roseland, West Orange, Pine Brook, Livingston, Montville, Parsippany, Lake Hiawatha, Fairfield, Cedar Grove and Verona