Our Residential And
Commercial Services
Seasonal Cleanups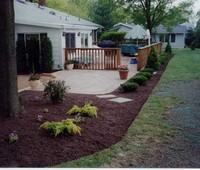 It's nice to have a change in seasons; it brings with it a dramatic change in the way you're landscaping looks. While spring brings with it blooms of various hues; winter and autumn have their own colors and charm. While all of this sounds very alluring there are some aspects of these climatic changes that property owners in The Caldwells, Roseland, Essex Fells, West Orange, Pine Brook, Montville, Parsippany, Livingston, Verona, Cedar Grove and Lake Hiawatha don't look forward to seasonal cleanups!! 
RANGE OF SERVICES
Our clients know that with us handling all their landscape design and maintenance work, they will have peace of mind that the job will be tackled in the best possible way. If you choose not to get these cleanups done, it can impact the health of your landscaping. As part of our change of season cleanup services we handle:
Leaf & debris removal
Bed edging
Perennial cutbacks
Trimming shrubs if chosen
Removing brush and weeds
Thatching of lawn.
Aerating of Lawn.
Over-seeding of lawn 
In addition to these things, we also provide excellent weed-emergent control application if chosen. This is one of the best ways to deter weeds from cropping up during the growing season. In a way, it also saves you the cost of getting hand weeding done at a later stage.
ABOUT LEAF REMOVAL
We handle leaf removal in a very expert manner too. On the outside, it may seem like quite an easy job; but the fact is that it's not something a novice would be able to do properly. While its necessary to use leaf-blower machines to clear leaves from expansive properties, it has to be kept in mind that these powerful machines can do considerable damage to more delicate flowering plants or other shrubs in that areas.  Depending on your town requirements, leaves are either left at the curb or taken away.
We know exactly how to tackle this job in an expert manner and your plants will never come to any harm when we are removing leaves from the landscaping. Opting for seasonal garden cleaning services is the one way to ensure that you're landscaping stays healthy and that it will be ready for any climatic changes.
You will also notice that we maintain very low seasonal cleanup cost and this provides you value for your money. For more information, call Creative Concepts Landscaping LLC at (973) 334-7336. You can also send us your queries via
email
and we will respond shortly.
Landscape design and construction services available in all of Northern New Jersey. Organic fertilization and lawn and shrub maintenance services available in the following towns: The Caldwells, Essex Fells, Roseland, West Orange, Pine Brook, Livingston, Montville, Parsippany, Lake Hiawatha, Fairfield, Cedar Grove and Verona