Our Residential And
Commercial Services
Lawn Maintenance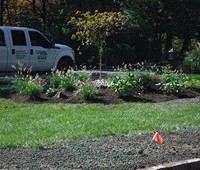 Having a beautiful lawn on your property is a lot about how well it is maintained. Once you get the installation done from a skilled and experienced landscaping company, you need to ensure that the turf gets watered at the right intervals, that it is de-weeded, fertilized and mowed regularly too. While homeowners in and around The Caldwells, Roseland, Essex Fells, West Orange, Pine Brook, Montville, Parsippany, Livingston, Verona, Cedar Grove and Lake Hiawatha are enthusiastic about tackling this job themselves, most eventually tire of it.  That's not surprising considering the fact that it can be very tedious and time-consuming to attend to lawn care needs. The best solution is to hire the services of a company that will be able to provide you custom lawn maintenance solutions.
LAWN MAINTENANCE SERVICES
Once you come to us with your requirements, the owner will arrange to meet with you.  He will survey your specific lawn needs and requirements and provide you with a detailed quote based on the lawn plan you choose. While we have some standard plans, we also customize plans based on your specific requirements. We know that different types of grasses will have to be treated differently and we have a very specialized approach to our work. The different services that could be included in a lawn care package are:
Mowing and trimming
Core aeration
Over-seeding
Lawn fertilization
Topsoil installation
Mulching
Pest Control
Broadleaf Weed-control
Crabgrass Control
Spring & Fall Clean Up
De-Thatching/Power-Raking
Pruning of Shrubs
LAWN MAINTENANCE FOR HEALTHY LAWNS
Our services ensure that all your lawn spaces are appropriately cared for. We are very particular about the products we use in our work and only organic and environment-friendly fertilizers are used. Our skilled personnel are very meticulous in their approach and this ensures your turf installation stays healthy and looking good for a number of years. This also adds value to your property.
This attention to detail and the fact that we provide timely services at very reasonable lawn care cost has made us the preferred landscape company in the Suburban Essex & Morris County areas. Today our name is synonymous with high quality landscape solutions. For more information about our custom landscape maintenance plans, call Creative Concepts Landscaping LLC at (973) 334-7336. You can also send us your queries via email and we will respond shortly.
Landscape design and construction services available in all of Northern New Jersey. Organic fertilization and lawn and shrub maintenance services available in the following towns: The Caldwells, Essex Fells, Roseland, West Orange, Pine Brook, Livingston, Montville, Parsippany, Lake Hiawatha, Fairfield, Cedar Grove and Verona