Our Residential And
Commercial Services
Interlocking Retaining Walls
INTERLOCKING RETAINING WALLS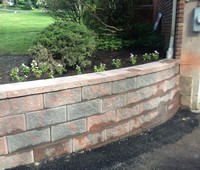 Landscaping is a mix of various features and elements. There is softscaping and hardscaping; there are water features. All these go into making a whole that adds to the aesthetics of the space and enhances its functionality. While various features such as outdoor kitchens, patios and decks definitely make these outdoor spaces more usable, it's very important to ensure that the overall foundation of the landscape is stable.
WHY ARE RETAINING WALLS REQUIRED?
At times some properties in and around West Essex and Morris County areas have graded land. This gives landscapers an opportunity to create some unique garden design concepts. While all of this is great when it comes to designing the space, there are some other aspects that are equally important too. When driveways or any other features are built on graded land, it becomes important to excavate the slope before the paving is installed.
However, it is also important to ensure that the slope has the right amount of support. We do this by constructing specially engineered interlocking retaining walls. These walls help hold back the soil and rocks and add to the integrity of the landscaping. As part of our landscaping projects, we have built interlocking retaining walls on properties in The West Essex and Morris County Areas.
Regardless of the scope of the project, when you come to us with your requirement, we ensure that you receive personalized services and customized solutions. For more information about our services for driveway, walkway and patios installations, call Creative Concepts Landscaping LLC at (973) 334-7336. You can also send us your queries via email and we will respond shortly.
Landscape design and construction services available in all of Northern New Jersey. Organic fertilization and lawn and shrub maintenance services available in the following towns: The Caldwells, Essex Fells, Roseland, West Orange, Pine Brook, Livingston, Montville, Parsippany, Lake Hiawatha, Fairfield, Cedar Grove and Verona