Our Residential And
Commercial Services
Plant Care & Installation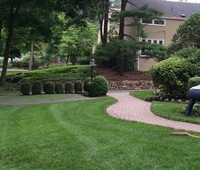 The outdoor spaces on your property add its liveliness, curb appeal and its resale value. Very importantly, they lend a distinct charm to your property and encourage you to use these spaces more. Plantings are an integral component of any landscape and they add greenery to your garden and yard.
When you are getting your landscape installed, you choose your plants and trees with great care; in consultation with the landscapers you ensure that you make the right choice of outdoor plants. Once all the features are in place, what becomes important is that these plants and shrubs be maintained well too. We at Creative Concepts Landscaping LLC are expert horticulturist and have been operating this family business for over 50 years.
We know exactly what it takes to install and maintain plants on your residential property in The Caldwells, Roseland, Essex Fells, West Orange, Pine Brook, Montville, Parsippany, Livingston, Verona, Cedar Grove and Lake Hiawatha.
INSTALLATION OF PLANTS
There are a number of things we keep in view while installing plantings, such as:
We first check the quality of the soil and understand what the climatic conditions are like in the area
Our experts then survey the property and check how many large trees there are on the property and where they are positioned
The next thing to do is to understand what your vision for the place is and the type of plants and shrubs you prefer
While making a choice of plants, we try to pick plants that have similar watering needs. This helps set-up a more efficient irrigation system
We also pick plantings of different colors and focus on creating the right 'feel'. If some plants have to be installed in the shaded areas, the plantings will be chosen accordingly
We are very methodical and detailed in the manner in which we tackle plant installation and care. We use organic fertilizers in our work and the latest manual and power equipment and tools. While we focus on quality we also maintain very low garden care cost. For more information, call Creative Concepts Landscaping LLC at (973) 334-7336. You can also send us your queries via email and we will respond shortly.
Landscape design and construction services available in all of Northern New Jersey. Organic fertilization and lawn and shrub maintenance services available in the following towns: The Caldwells, Essex Fells, Roseland, West Orange, Pine Brook, Livingston, Montville, Parsippany, Lake Hiawatha, Fairfield, Cedar Grove and Verona