Our Residential And
Commercial Services
Organic Fertilization Programs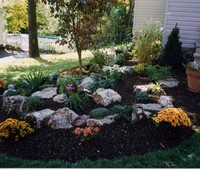 Most residential properties in and around the Caldwells, Roseland, Essex Fells, West Orange, Pine Brook, Montville, Parsippany, Livingston, Verona, Cedar Grove and Lake Hiawatha and surrounding areas have beautifully designed and installed gardens and yards. You will see large perennials, multi-colored shrubs and other plants and lush lawns. While these are definitely a treat for the eyes, any homeowner that has landscaped areas on their property knows exactly how important it is to maintain them well.
WHY IS FERTILIZATION IMPORTANT?
We at Creative Concepts Landscaping LLC are an expert landscape and lawn maintenance company that provides high grade solutions to customers in and around the Suburban Essex and Morris County areas. Most of our clients also opt for our landscape and lawn maintenance services. Fertilization is a very important aspect of this service. No matter how big or small you're landscaping, if it has plantings, these would have to be fertilized properly. It helps maintain the health of the plants and makes them more resistant to disease and pest infestations.
We are also a very environment-conscious company and make sure that we use only organic fertilizers in our landscape maintenance work. We use top quality formulations that are sourced from the best nurseries; this ensures your landscape stays looking good, but that it stays healthy too.
CUSTOMIZED ORGANIC FERTILIZATION PROGRAMS
Our Lawn program includes:
March - Starter Fertilizer
April - Crab Grass Control
May - Weed Control & Nuts Edge Control
June - Summer Fertilizer & Insecticide
July - Grub Control
August - Weed Control & Crab Grass Control
September - Fall Fertilizer
November/December - Winter Fertilizer & Granulated Lime
Shrub Program includes:
March - Shrub Fertilizer
April - Mites Spray
May - Fungus Spray
August - Fall Plant Fertilizer
September - Mites Spray
November/December - Horticultural Winter Oil & Winter Fertilizer
COST-EFFECTIVE FERTILIZATION SERVICES
We are very focused in the manner in which we do this work and as mentioned earlier use only organic, non-toxic and environment-friendly fertilizers in our work. This definitely ensures your plants stay healthy; but it also ensures that you and your family come to no harm from any toxic chemicals.
Our services are customized to match your requirements and we ensure that we maintain very low fertilization costs. If you have any type of landscape fertilization requirements, we are the company to come to. For more information, call Creative Concepts Landscaping LLC at (973) 334-7336. You can also send us your queries via email and we will respond shortly.
Landscape design and construction services available in all of Northern New Jersey. Organic fertilization and lawn and shrub maintenance services available in the following towns: The Caldwells, Essex Fells, Roseland, West Orange, Pine Brook, Livingston, Montville, Parsippany, Lake Hiawatha, Fairfield, Cedar Grove and Verona