Our Residential And
Commercial Services
Landscaping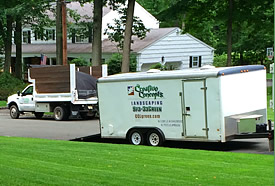 Do you want to have a beautiful landscape with all the features and amenities you desire? Then hire a professional landscaper. Your landscaping project should be handled only by expert people like us at Creative Concepts Landscaping, LLC. Our company employs some of the finest landscapers in the region. They have decades of experience in residential and commercial landscape installation, so you will be dealing with people who are masters of their crafts. Aside from our skilled people, we also have complete resources, such as tools, equipment, and landscape products.
With us, you won't have to worry about anything since we can handle all phases of landscape construction. From conceptualization and design to installation and maintenance, we can provide you expert services. Please call us at (973) 334-7336 if you're from The Caldwells, Roseland, Essex Fells, West Orange, Pine Brook, Montville, Parsippany, Livingston, Cedar Grove, Verona, and Lake Hiawatha, NJ. We've been serving these areas since we started our landscaping business decades ago. You may also visit our office so we can discuss your ideas and options.
Landscape
There are two important factors to consider when working on a landscaping project. First, the landscape must be sustainable. The different elements must be carefully chosen to achieve balance and harmony in the landscaped area. This will also result in beautiful landscapes that will require minimal maintenance effort. Another factor to consider is the cost of maintenance. If you don't want to spend huge on water bills and maintenance jobs, choose features that are eco-friendly and install plantings that will not require too much water.
Landscape Design
The functionality and attractiveness of your outdoors will depend on the creativity of your landscapers. Your contractor should have the capability to create beautiful landscape design that perfectly suits your needs and preferences. You may choose from English-styled, contemporary, modern, or custom designs. Just make sure that your chosen design will complement with the architecture of your home. It is also a good idea to include various landscaping elements, such as hardscapes, water features, softscapes, fire features, and wooden structures.
Lawn Care
Landscaping is also about maintaining the beauty and functionality of all the features in the landscaped area. A specific area that must be given utmost care is the lawn. Some of the lawn care tasks that must be performed to ensure its health and beauty include the following:
mowing
fertilizing
edging
yard cleanups
core aeration
sodding
weed control
flower bed maintenance
lawn treatment
seeding
pest control
Landscapers
There are numerous local landscapers who can offer you professional landscape design and installation. However, you must be careful when choosing one to avoid getting subpar results. Make sure that they are experts in their field and capable of doing various landscaping tasks. If you want to have the best landscaped property, look for these qualities:
decades of experience in the landscape industry
complete tools and equipment
partnership with leading suppliers and manufacturers
creative and dedicated professionals
ability to work on residential and commercial projects
an impressive portfolio of completed projects
positive testimonials from previous clients
Let Creative Concepts Landscaping, LLC help you achieve your dream landscape. Call us now.
MORE ARTICLES
Landscape design and construction services available in all of Northern New Jersey. Organic fertilization and lawn and shrub maintenance services available in the following towns: The Caldwells, Essex Fells, Roseland, West Orange, Pine Brook, Livingston, Montville, Parsippany, Lake Hiawatha, Fairfield, Cedar Grove and Verona