Our Residential And
Commercial Services
Pavers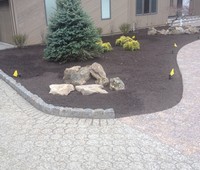 Most homes and commercial properties in Essex and surrounding areas have paver features and amenities. This is not surprising since pavers are excellent paving materials and effective in improving the aesthetic appeal of any outdoor feature or amenity. In addition, pavers are tough masonry materials and perfect for outdoor applications. They are commonly used for residential, commercial, and public paving projects. Property owners prefer this product because of its affordability, durability, and appealing designs. If you also want to have beautiful paver features in your home or commercial property, you need to contact a certified paver installer.
A local company that you can hire for your paving project is Creative Concepts Landscaping, LLC. We have more than 5 decades of experience in the industry, making us the most experienced local paver installation company in New Jersey. As certified paver installers, we can guarantee the beauty and integrity of the paver features that we design and build. Our portfolio of completed projects includes installing paver patios, decks, driveways, and walkways for residential and commercial clients in the state. The bulk of our clients come from The Caldwells, Roseland, Essex Fells, West Orange, Pine Brook, Montville, Parsippany, Livingston, Cedar Grove, Verona, and Lake Hiawatha, NJ. Contact us today at (973) 334-7336 so we can discuss the types of pavers that we can install.
Paving Stones
The aesthetic appeal of your outdoor amenity largely depends on your chosen paver type. Your options include concrete, bricks, or stone pavers. In our experience as a paving contractor, paving stones are the most preferred among the choices because of the material's inherent beauty and toughness. Stone pavers can easily make an outdoor feature stunningly beautiful with their natural colors and textures. They are extremely durable, so you won't have to worry about costly repair and maintenance.  
Patio Pavers
A patio is a great add-on feature in a landscape. It creates a new outdoor living space that is perfect for rest and relaxation. A beautifully designed patio will also improve the appeal of your home. However, you can only enjoy all these benefits if you use premium patio pavers. These materials are available in a wide range of designs, so choosing your desired style or theme is easy.
Concrete Pavers
The most cost-effective paving materials are concrete pavers. They are affordable, easy to install, and low-maintenance materials. Creating your custom paver designs is also easy because of available colors, textures, patterns, and sizes. These qualities are some of the reasons why a lot of property owners and contractors use concrete paving on their projects. They are widely used for patio and driveway construction.
Brick Pavers
The classic appeal of bricks is one of the reasons why they are still the choice of many property owners. They are not only popular as cladding materials but also for paving projects. Brick pavers are highly recommended for patios, decks, walkways, sitting areas, and other outdoor living spaces. 
Paver Stones
If you want aesthetics and durability, choose paver stones. With this type of paving material, you are assured of an outdoor feature that can last for decades. Just make sure that you are getting your stones from a reputable and trusted supplier.
Driveway Pavers
Creating a long-lasting driveway is always the primary goal of contractors like us. To achieve this, we use only premium quality driveway pavers for all our installation projects. These pavers are specifically made for driveway use, so they can withstand heavy vehicle traffic and constant use. We also ensure that they are installed properly and accurately.   
MORE ARTICLES
Landscape design and construction services available in all of Northern New Jersey. Organic fertilization and lawn and shrub maintenance services available in the following towns: The Caldwells, Essex Fells, Roseland, West Orange, Pine Brook, Livingston, Montville, Parsippany, Lake Hiawatha, Fairfield, Cedar Grove and Verona