Our Residential And
Commercial Services
Snow Plowing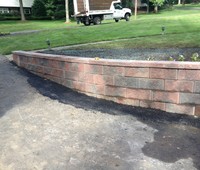 All the areas around West Essex and Morris County do experience a significant amount of snowfall in the winter months, which can be a major hindrance when people have to go out to work or for anything else. At times, the snow just comes down very fast within a short period of time and the only way keep the property clear of it is to call in snow plowing professionals for the job.
We at Creative Concepts Landscaping LLC provide excellent snow plowing services to our full season maintenance clients in the West Essex and Morris County areas and have proved that we are reliable and prompt with our services.
OUR SNOW REMOVAL SERVICES
It's important to understand that snow removal shouldn't be attempted by unskilled personnel. It can be dangerous and at times they may end up damaging your property too. You only have to keep our number handy and call us in case you are snowed in. We will quickly send in skilled and trained personnel over to your property. They are equipped with all the latest snow clearing machines and are trained in all the snow removal techniques.
We know exactly how frustrating it can be for you to be stuck at home when you need to get out for some urgent work and we never delay our response. There is no one fixed method of snow removal that we use to clear your property–  we make use of equipment like snowplows and snow blowers as well as shovels for manual clearing of walkways as needed to our full season maintenance clients in the West Essex and Morris County areas.
SNOW PLOWING FOR ALL AREAS
We are the experts that aren't deterred by the severity of the snowstorm and tackle every snow plowing job meticulously and safely. Even though we use snowplows and other equipment we are extremely careful while using it and ensure that no damage is caused to your property. In the winter months, our team of snow removal specialists is on call and ready to promptly come over to your location and clear the snow from your property.
We are highly focused in our approach to our work and have been a family business operating in this field for over five decades. We have built our reputation on the basis of our commitment to our work and consistency in maintaining a very high level of service. In addition to snow plowing, we provide comprehensive landscaping services.
In many ways this gives us a very strong understanding about how the snow should be cleared from outdoor spaces on your property, without damaging any of the features on it. Even as we maintain very high quality standards, you will find that we have very low snow plowing pricing and our services won't burn a hole in your pocket. For more information about our snow removal services, call Creative Concepts Landscaping LLC at (973) 334-7336. You can also send us your queries via email and we will respond shortly.
Landscape design and construction services available in all of Northern New Jersey. Organic fertilization and lawn and shrub maintenance services available in the following towns: The Caldwells, Essex Fells, Roseland, West Orange, Pine Brook, Livingston, Montville, Parsippany, Lake Hiawatha, Fairfield, Cedar Grove and Verona